Testimonials and Media
Orient Blackswan loves teachers, and you love us back!
Listen to what users of our courseware has to say about us.
Endorsements and Testimonials
Listen to how A Magic Place attempts to revive the lost art of reading, by bringing the charm of the classics together with the energy of the contemporary...
Listen to how Orient Blackswan is helping teachers like Ms Bhattacharya-Roy prepare for the demands of the 21st century classroom with a selection of excellent learning resources...
Hear how the Orient Blackswan Teachers' Portal facilitates Blended Learning in classrooms across India, by leveraging pedagogically-sound teaching tips and strategies with mapped digital content curated by expert educators...
Here's how Orient Blackswan courseware is perfectly aligned to the requirements of the NCERT curriculum, according to an esteemed Principal of a school who has been using our books for many years...
Find out how Campion School, one of Bhopal's oldest and most prestigious educational institutions, is powering ahead with New Science Ahead. From solid courseware to an exhaustive selection of supplementary resources and online tools, Orient Blackswan has been offering comprehensive and timely teacher support to help schools prepare students to become better learners.
Prompt, up-to-date and always responsive to the constantly-changing requirements of teaching in the 21st century. That's why Imperial International School, Khachrod, loves Orient Blackswan.
Look at what some of our most esteemed educators have to say about Orient Blackswan, our rich legacy and our commitment to supporting education… in classrooms, and beyond!
Orient Blackswan in the Media
Find out how Orient Blackswan is equipping learners with critical skills to competently engage with, and examine, a wide range of present-day ecological issues that impact our climate today.
Read how "The Grand Old Lady" has constantly stayed ageless and young, keeping pace with generations of students and teachers...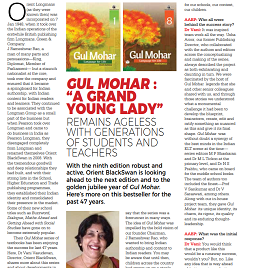 Orient Blackswan salutes Pulin Makhal (Pulin Sir to his students at the prestigious St Lawrence School, Kolkata) and celebrates his incredible spirit of commitment and service to the cause of education. We are proud to have been associated with a few of the most cherished moments his students have had with him. Read more about this remarkable personality here...
World is Changing: How Orient BlackSwan is Setting an Example by Challenging Gender Roles, One Stereotype at a Time
Reporters, celebrities, social media users and academics are showing their appreciation, love and support for a chapter from an ICSE middle-school Social Studies textbook, one that went viral for all the right reasons. The chapter, from the beloved Orient BlackSwan series Inspired Social Studies, is titled 'Changing Roles of Girls and Boys', and takes a critical look at established gender stereotypes in our societies, and their impact on today's youth. Netizens have lauded how the chapter challenges set gender binaries and how they can often lead to negative perceptions (that are) detrimental to individual growth through relevant examples, simple explanations and exercises to encourage critical thinking.
Netizens have been incredibly appreciative of how the chapter, prominently featured on Inspired Social Studies, explains the concept of gender binaries and gender fluidity to young learners in an empathetic and age-appropriate way, without trivialising them. When so many textbooks in recent times have gone 'viral' for all the wrong reasons, causing outrage and uproar on the internet and in civil society, internet users and respected news and internet outlets like News18, India Today, She The People and Times Now have wholeheartedly endorsed the positive social message that has been conveyed through this chapter. From all of us at Orient BlackSwan, Thank You, internet, for sharing our values, and for giving us your comments, thoughts and upvotes!
Read how Orient BlackSwan helped decode the New Education Policy (NEP) for heads of educational institutions at a school leadership programme in Kohima on April 26. The programme, held at Don Bosco Higher Secondary School, was organised by Nagaland Board of School Education (NBSE).
Ramalakshmi Das, Senior Product Specialist at Orient Blackswan, was the resource person for the programme, and she spoke at length on 'creating a mission and vision for the school for school leaders'. Her speech focussed on strategies to implement the key recommendations of the NEP, and incorporating these strategies to articulate clear mission statements for schools.
Click on the link to know more about this programme.
Orient BlackSwan ushers the staff of Mount Carmel School, Mangaluru, towards a new beginning with a training session on 'Art Integration and Activity-based Teaching'
John Nogueira, an Orient BlackSwan trainer, conducted a session power packed with engaging activities, facilitating Art Integration with other subjects.
He helped teachers redefine the implementation of Art Integrated Learning in the classroom. Read more about the event here.
Read how Orient BlackSwan is helping educators navigate through the changing landscape of school education, from traditional classrooms to digitally-augmented hybrid classroom models. Smitha Matai, from Orient BlackSwan, was the key resource person at an orientation programme and seminar held at Campion School, in Arera Colony, Bhopal, and she discussed the merits and complexities of the shifting teaching landscape in India today.
The detailed discussion, enthusiastically attended by the teachers teaching in the primary and secondary sections of the school, disseminated the role of the teacher in hybrid classes, the importance of effective communication (verbal, and non-verbal) and experiential learning. She also highlighted the central role played by information technology in establishing standards in terms of leadership, student counselling, teaching efficacy and code of conduct in schools. Read more about the captivating session by clicking on the link button.
To commemorate 75 glorious years of service to the nation, Orient BlackSwan proudly presents its latest initiative, the Centre for Professional Development—an offering of Online Certification Programmes to provide teachers with opportunities to upskill themselves, regardless of age, designation and academic qualification. The platform is being launched through several online and physical events that are being held across the country.
The certification programmes, developed in collaboration with some of the world's best and most respected teacher trainers, are designed to allow teachers to enhance their knowledge and skills, further their careers and explore further avenues for employment. Featuring essential video-based instruction, supplementary reading and practice worksheets, the programmes consist of flexible and modular courses that allow teachers to plan their learning around their other personal and professional commitments.
Click on the link buttons to read more about the initiative.
The idea of the modern Indian classrooms today have undergone a huge change, and, along with the classroom realities, the learners' abilities, aptitudes, faculties and application skills across multiple disciplines have also been a part of this shift. For teachers to be catalysts to this change, however, they themselves need to be professionally empowered with the expertise, knowledge and competencies that allow them to seamlessly access all attributes of 21st Century education.
Recognising the need for upskilling teachers, Orient BlackSwan Private Limited, a pioneer in the field of quality publishing since 1948, organised a workshop on the topic Enhancing Skills for Career Advancement through Continuous Professional Development. The objective of the workshop was to bring together the diverse group of teachers to deliberate on the need for and importance of continuous professional development for teachers. The event was attended by more than 100 teachers from the schools across the National Capital Region.
On this occasion, Orient BlackSwan also announced the launch of their Centre for Professional Development for Teachers—a digital hub where teachers can register for online courses to grow in their professional capacities.
Click on the link button to read more about the event.